Invisible cold storage door
Air In Motion, headquartered in Merselo, The Netherlands, develops solutions for logistic passageways within the (produce) industry. Costly damage to doors, regular replacement of parts such as rubber door strips and frequent waiting for the door to open are now a thing of the past. Kris van de Rijt, director of Air In Motion, has seen a strong increase in the sales of his maintenance-free air doors over the last few years "Customers just want a solution they don't have to worry about, even after the warranty has expired," says Van de Rijt. His company develops the innovative AFIM Air Doors (industrial high-pressure air curtains) for use in nearly every type of industry, from cold storage to freezer rooms and from production halls even to storage of valuable medication.
Damage less cold storage doors
Using an AFIM Air Door is an easy way of reducing the maintenance frequency of a cold storage door. For a company, there is a big difference between opening a door 300/400 times a day and opening it only once per day with respect to maintenance costs and logistic flow. Waiting for doors to open becomes a thing of the past. Apart from saving on the maintenance costs of existing doors, warm and moist air is also prevented from entering the cold store.
The concept developed by Van de Rijt works like an impenetrable barrier that blocks heat diffusion. This concept is so effective that the cold storage door can be kept open for hours without issue while the temperature remains stable. The energy losses are so marginal that an investment in an AFIM Air Door can pay itself back within 1 to 2 years.
For more information on AFIM Air Doors:
Air In Motion B.V.
info@airinmotion.nl, www.airinmotion.world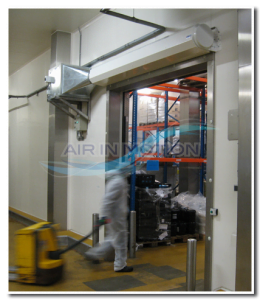 The benefits at a glance
NO moving parts that require frequent maintenance
NO risk of damage
NO more visits by expensive service mechanics
5-year all-in warranty available upon purchase
Widespread application
Next to the unique AFIM Air Doors for use in passageways to cold stores, Air In Motion also offers solutions for use in passageways to freezer rooms, production halls, storage areas, paint shops, fresh food storage and (air-conditioned) trucks.
If you have any questions,
you can contact mr. Kris van de Rijt +31(0)478853287.