Air curtain warehouse 11 meters high
To reduce as much energy loss as possible, refrigerated storage rooms are built and insulated according to increasingly strict European standards. However, energy loss is caused by open doors to a warmer climate. An air curtain warehouse offers the perfect solution. If a passage isn't used, a permanent door is required. What happens, however, if a permanent door isn't possible. Air in Motion B.V. from Ysselsteyn (the Netherlands) developed a solution for Vandemoortele Groep for 7 passages of more than 11 meters high.
Vandemoortele Groep
Vandemoortele is the largest – unlisted- food company in Belgium, active in 17 european countries. For the production of margarine, fat and oil for amongst others consumers, bakeries and catering a fully automated storage warehouse with thousands of storage places for pallets is used on the production location in Izegem (South Belgium).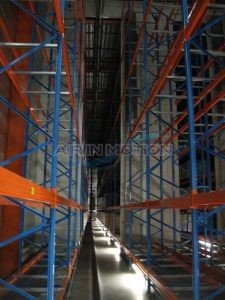 Tempering at exactly 25°C
Before margarines, fats and oils are delivered to customers they are stored in a refrigerated fully automatic storage space, at a temperature of 15°C. Before the products end up in the refrigerated storage rooms, they will first, during a couple of days, have to go through a tempering process at a temperature of exactly 25°C. Vandemoortele Groep wondered if these two storage rooms could be combined within one fully automatic storage warehouse. An air curtain is the perfect solution!


11 meters high
If you divide the refrigerated storage warehouse in zones, you can combine a tempering zone of 25°C and a refrigerated storage space of 15°C. How, however, can these zones be separated air-technically when a fully automatic crane continuously passes. Placing (automatic) swing doors causes loss of storage space and hinders the fully automatic process.  In close cooperation with Vandemoortele Groep Air In Motion B.V. developed the solution to combine a refrigerated storage space with a tempering zone: 7 vertical doors that form the temperature separation between both climate zones at exactly 1°C.
After the successful realisation of the first storage warehouse at the end of 2016, Vandemoortele Groep has recently provided her second and largest refrigerated storage warehouse with AFIM air doors for 11 meters high climate separation.
Solutions of Air In Motion B.V.
For more than 10 years Air In Motion B.V. has developed custom solutions for climate separations. Are you looking for a custom solution? Air in Motion is more than willing to think along and give solid advice. Contact us today: +31(0)478 853 287.
AFIM® (high pressure) industrial air curtains are developed by Air In Motion: www.airinmotion.world