AFIM IGLO® combines financial benefit and ease
Therefore it is the solution for humidity control in vulnerable climates, such as in freezer rooms.
The benefit of AFIM IGLO®:
Ice-free passage: you will not be bothered by icing around the passage; slippery floors are therefore definitively a thing of the past.
Defrosting evaporators: blocking the moisture problem at the freezers results in less defrosting actions of evaporators.
Energy saving: you can save up to 60% energy, such that in many cases the investment is returned within two years.
Saving money: the free passage saves time and thus money. You don't have to invest in turning or sliding doors, nor quick closing doors or strip curtains.
Safety: transportation between climate zones can take place freely and safely. This results in great advantages in vulnerable climates zones such as freezer rooms.
Funding: the investment in your AFIM® Air Door may be subsidised by the government, such as the EIA system (energy investment).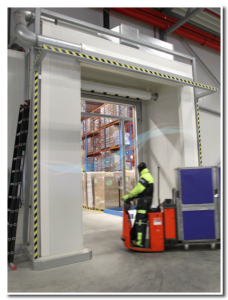 Watch the unique advantages of our patented solution for a freezer / cold store / cold storage, the AFIM IGLO®-2:
Learn more?
Do you want some sound advice? Do you wish to know more about the funding possibilities or calculate your savings? Please do contact us.