An industrial air curtain opens doors
The industrial air curtain (known under our own brand, AFIM® Air Doors) was specially designed for industrial applications, where it keeps the cold air out during winter whilst also preventing moisture problems.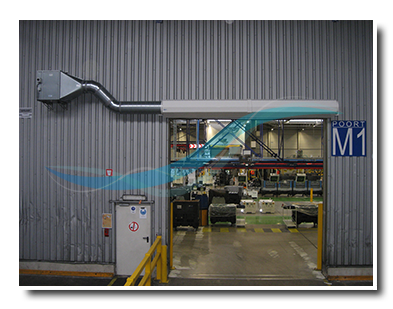 Benefits
An industrial air curtain usually offers a number of advantages, the most common of which are:
Energy conservation: a passage fitted with an industrial air curtain can save up to 80% of energy, which means that your investment will usually pay itself back within 1.5 years due to the energy saved. Furthermore, there are various subsidy options that drastically lower the acquisition cost.
Improved logistics: the freed-up entry will shave seconds off of passing through. This drastically lowers waiting times, which results in faster and more efficient logistics. Additionally, you will not have to install a moisture/air lock, revolving/sliding door, high-speed door or strip curtain.
Safety: transportation between different climate zones can take place safely and unhindered. This is a big advantage, especially in production halls, cold stores, freezer rooms and loading platforms. As soon as a person or vehicle has passed the air jet, the passage is hermetically sealed again from ceiling to floor.
Damage reduction: transportation between the climate zones can take place safely and unhindered without risk of damage. After all, one cannot collide with air.
Limited sick leave: When an industrial air curtain is used, the warm air stays inside and the cold air is kept out. The air inside does not have to be heated or cooled continuously. This saves energy and prevents draft – and a pleasant work environment benefits your employees. Investing in better working conditions will reduce absenteeism.
An industrial air curtain in your situation?
AFIM® (high-pressure) industrial air curtains are developed by Air In Motion: contact us
Workings
An industrial air curtain normally only activates when an (outside) door is opened and a hard separation of air climates is desired while the door stays open. For instance, think of the door to a freezer room that is only opened once goods need to be transported in or out. As long as the door is open, the industrial air curtain will stay activated so no cold air can escape the freezer room.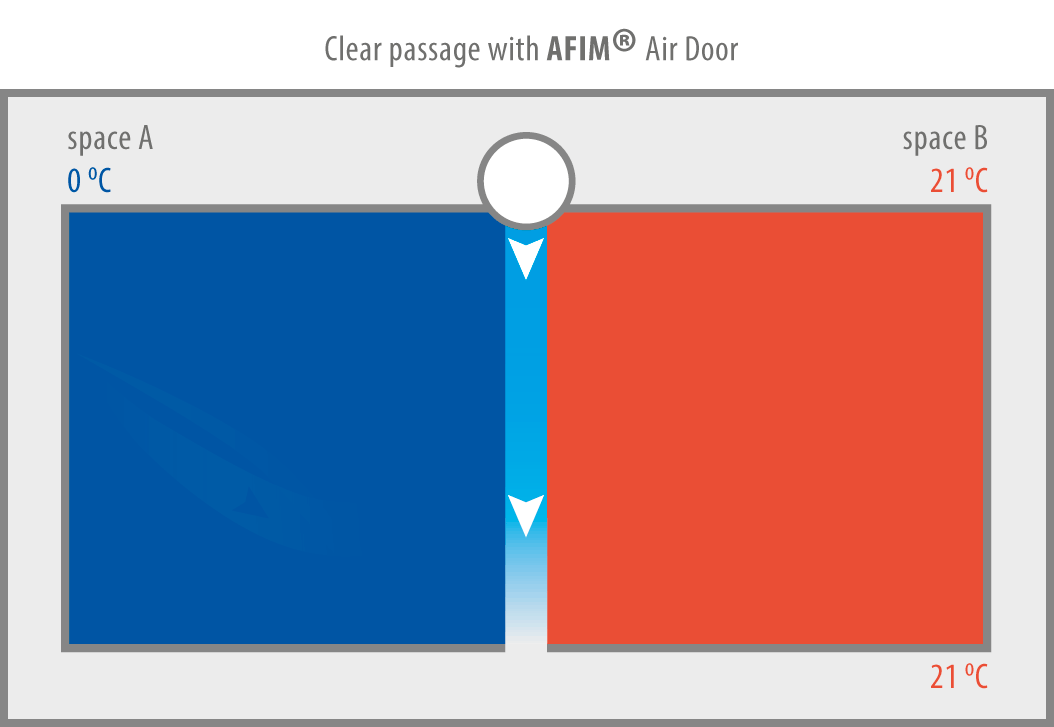 The function of an industrial air curtain is based on blocking natural heat diffusion. This diffusion occurs when different climates meet each other in a doorway. As soon as the door is opened, warm air escapes through the top of the doorway and cold air enters through the bottom of the doorway.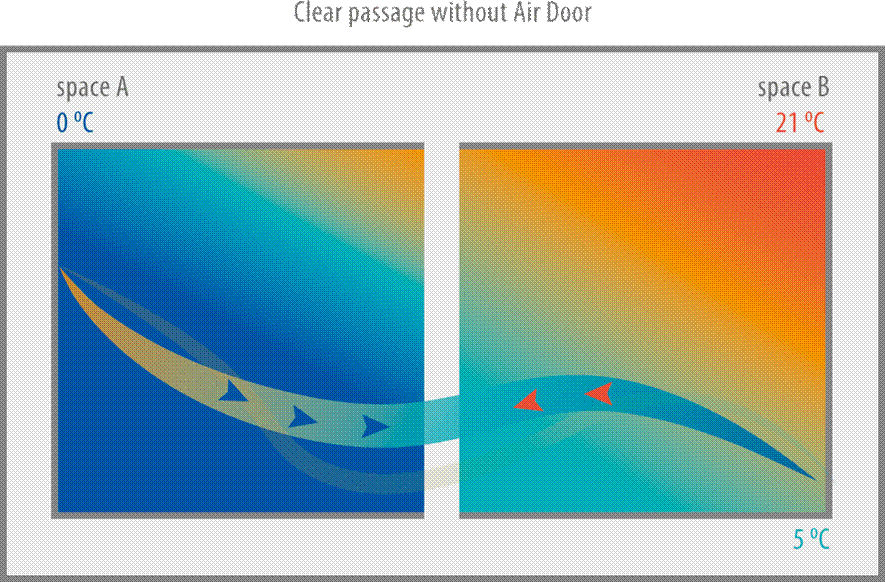 Application
An industrial air curtain has myriad applications, in workspaces such as workshops, garages, factory halls, cold stores and even freezer rooms.
The often (large) open doors cause loss of heat and disrupt the climate inside. If there is a temperature difference between the inside and outside, this will cause a draft or difficulties in keeping the temperature of the different spaces stable.