Why economical air doors for you?
The new generation AFIM® Air Doors (high-pressure air curtains) provides many advantages over conventional systems such as high-speed doors, quick release, doors, overhead doors and strip curtains.
Financial gains of the air door
This makes AFIM® the most affordable choice and a economical air door:
Improved logistics: by eliminating the time logistic loss that occurs with conventional systems, there can be for €1,458.- average annual per passage – be saved.
No maintenance: conventional systems all moving parts wear out over time. The systems should therefore be maintained at least once a year. Costs vary by application, but quickly run towards €560.- per passage per year.
Energy saving: because no loss of conditioned (cold) air in the passage, over 75% energy can be saved per year.
No damage: where people work, damages are simply inevitable. Damage to doors can be costly. The AFIM® Air Door is the solution that cannot be rutted. Costs vary per claim, but quickly run towards €180.- per passage per year.
What cost economical air doors for your situation?
To apply for economical air doors for your specific situation, please refer to this page.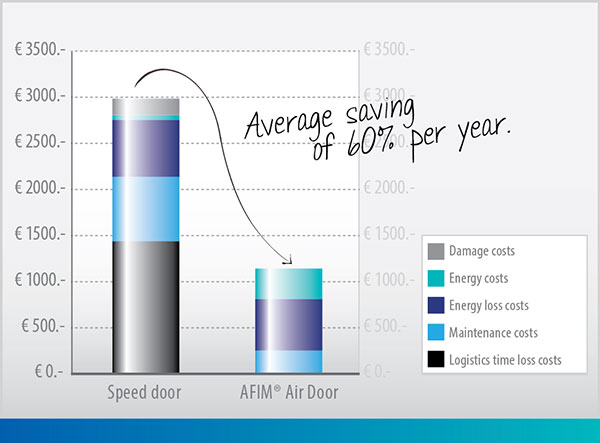 Additional benefits of the air door
In addition, the AFIM® Air Door also offers:
Maximum safety: the convenience and safety of a continuous open view between two rooms offer an open character within the company and are difficult to express in monetary terms. A single accident by obstructed view in the passage is in most cases already more expensive than the investment in the AFIM® Air Door.
No temperature variation: the effective aerodynamic separation technique of the AFIM® Air Door occurs no temperature fluctuations. This is not only better for the conditioned product storage, but also gives a comfortable temperature overview for your customers.
No flying insects: In the summer months, outside doors often stay open. Annoyingly, the number of flying insects that is received. By effectively warding of flying insects by the AFIM® Air Door, there are no more problems with the HACCP or downtime any more.