AFIM® Air Doors are faster and cheaper than high speed doors
The AFIM® Air Door is the cheap and maintenance-friendly alternative to the old-fashioned high-speed door. The air door (high-pressure air curtain) cannot suffer collisions and prevents logistical losses. As such, problems such as high maintenance costs and damage to doors will be confined to the past.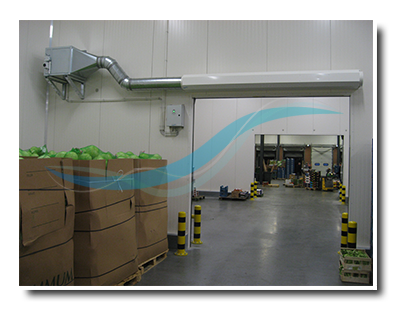 Financial security
Companies like to know what the fixed costs are for the systems they use, typically across a longer period of, say, 10 years. We're long past the time when only acquisition costs were taken into consideration. AFIM® Air Doors respond to this by being an affordable solution even in the long term. By using durable materials, we can reliably guarantee a usage span of around 40,000 hours. In practice, this typically amounts to 15-20 years of use.
No hidden annual costs
Everyone in the industry is familiar with the high speed door and how expensive it can often be to keep it operational. For a conventional high speed door, you can easily lose €125 in call-out fees every time it needs to be serviced. Because AFIM® Air Doors do not have moving parts that require frequent maintenance, the air door is a cheaper alternative to the conventional high speed door. Furthermore, when an air door is used, collision damage is forever a thing of the past.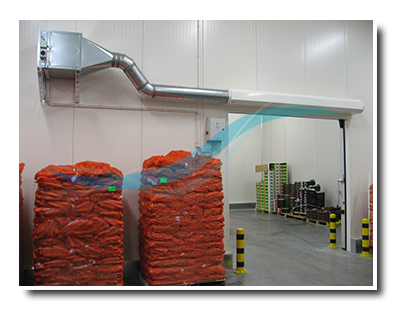 That is why AFIM® Air Doors have long been developed as a way of separating climate zones in industrial contexts, and are increasingly being used in busy logistical passageways, for instance in the meat processing and produce sectors. Especially companies that desire technical and financial security for the coming 15 years opt for AFIM® Air doors.
Advantages of AFIM® Air Doors compared to high speed doors:
Maintaining the right temperature in the right place with free passage for transport
No hindrance of transport between different areas
Keeps out heat and insects in the summer
No annual fixed maintenance costs
Keeps dust out or in as desired
Requires no filters and thus no maintenance
Speeds up internal logistics and makes it safer
Contributes to sustainable business
AFIM® Air Doors have proven their merit in the following sectors:
Produce
Meat
Logistics and transport
Cold storage
Freezer rooms
Production
Storage and transshipment
Applications of AFIM® Air Doors:
Cold storage doors
Freezer doors
Inside doors
Outside doors
Dock shelters
Indoor passageways without doors
Refer to this page for more information about the financial advantages of AFIM® Air Doors compared to the conventional high speed door.
Are you also tired of the high maintenance costs, call-out fees and damages that come with the regular high speed door? If so, then AFIM® Air Door is the solution you need. Request a quote now for an AFIM® Air Door that suits your needs.